September Giveaway: Maagang Regalo Para Kay Lola't Lolo
As we start our early countdown for Christmas, MyPharma is already warming up for the season of giving with a Grandparents Day Giveaway this September.
Becoming your kapitbahay pharmacy for the past few months have brought us great pleasure. Knowing that we're helping Filipino families ensure their health while staying at home is a rewarding experience that we hope to continue doing. That is why, in line with our goal to make healthcare more accessible to Filipinos, we've planned a giveaway that hopes to promote wellness and love for the family even more. For the upcoming Grandparents' Day on September 12, we'll announce two winners for our Maagang Regalo Giveaway.
Want to give the wisest people you know the Gift of Health? Read on to find out how you can enter our giveaway, kapitbahay!
Maagang Regalo Giveaway Mechanics
We will announce one winner each from the entries received on our Facebook and Instagram accounts. There will be different giveaway mechanics on each platform. This giveaway is open to ages 18 to 50 years and residents of Luzon. The winner will be drawn randomly at 7:00 PM on September 12, 2021 and shall be contacted via Facebook Messenger or Instagram Direct Message on September 13, 2021.
Facebook Giveaway Mechanics:
Under the comments section of this post, share your favorite memory with either your lolo or lola. We'll count it as two entries with the inclusion of their photo.

When you comment, don't forget to use the hashtag #MaagangRegalo

Multiple entries are not allowed. One user may only send one comment. Users who are found to enter multiple entries will be disqualified from the giveaway on Facebook.
Instagram Giveaway Mechanics:
Follow our Instagram account @mypharmaph and like this post.

Share the post on your story and tell us about your favorite memory with your lolo or lola. Don't forget to make your account public and to tag us so we can see your entries. Use the hashtag #MaagangRegalo.

Tag two friends in the comments section. Feel free to send in multiple entries via comments.
As families continue to brave the challenges brought on by the pandemic, we hope that in some way, we can inspire warmth and togetherness online, even for a brief period. The two (2) winners of the giveaway will each receive a MyPharma Care Packaged filled with essentials for their dear lolo and lola.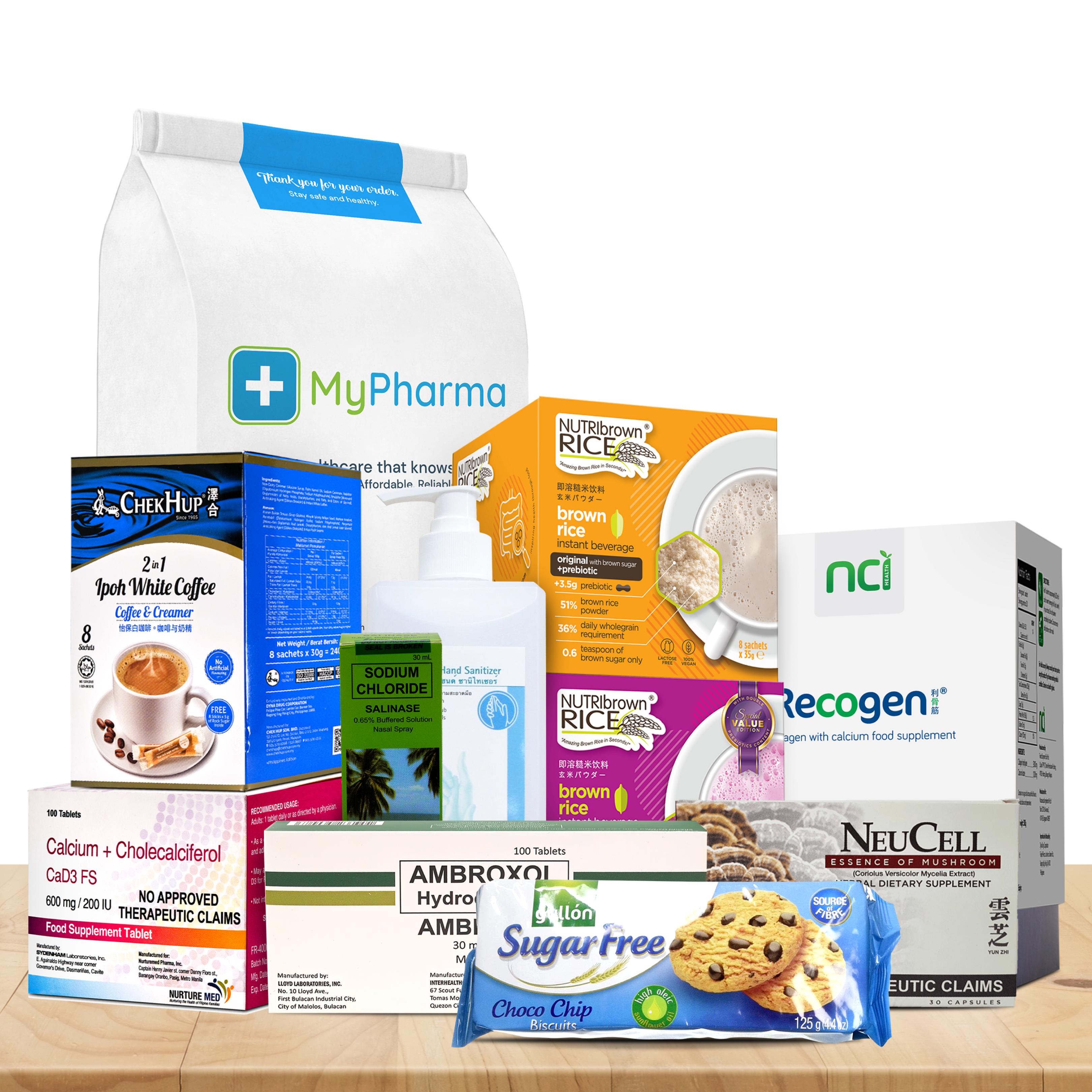 Each MyPharma bundle will include:
1 box of Ambroxyl (100 tablets)

1 box of CAD3 (Calcium + Cholecalciferol)

Salinase Spray

Softa Gel 500 ml

1 box of ChekHup Coffee Less Sweet

NutriBrownRice Sweet Potato

NutriBrownRice original

Gullón Sugar Free Chocolate Chip Biscuits

Neucell

Recogen (Collagen with Calcium Food Supplement)
We can't wait to read all about your priceless memories with your lolo and lola. You can send in entries on both platforms so you can have more chances of winning!
In these extraordinary times, we must cherish each moment we get to spend with our loved ones. May it be through small acts or words of affirmation, there are countless ways to show them that we care. But as Grandparents' Day approaches, MyPharma is also here to make the event more special. Let us give our grandparents the warm recognition and celebration that they deserve. — (MyPharma)

Join the Giveaway!
Share your favorite memory and win them a care package for Grandparents Day!